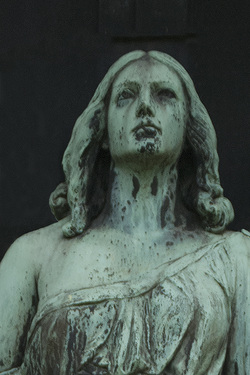 Well recently I've been working with some really scrumbly looking marble models; it takes a lot of overpainting and sfumato but I think I'm ready to try a bronze. She's in Koln, Germany, in the main cemetery and she is furious at god.

There are a lot of differences in technical matters to get this to look like the woman who was sculpted, then cast in bronze, over a century ago. Marble lets light move over the surface, bronze patina doesn't; the weathering makes dark blotches and tends to hide anatomy. IF I can work it there are some heartrending bronzes from Paris I'd like to be showing you.

We shall see. The last piece, the two women under the tree, took 27 days at 4 to 9 hours per day. This will be more challenging.