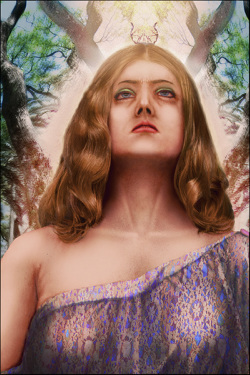 Well here's her present state. I haven't yet started test printing - the print is the actual final thing, not the image you see on the screen.

There was a myth, long ago in Egypt, that the kind and benevolent Hathor, usually shown as having the long, curved horns of an agreeable cow, was urged to come to earth to wreak havoc on miscreants as Sekhmet; she was so enthusiastic that the gods had to intervene before she laid waste the entire world in her fury.

Anna was the wife of a famous chemist, and died at 42 years of age, possibly in a late childbirth.

"Anna Seyfferth as Hathor becoming Sekhmet, 1908"