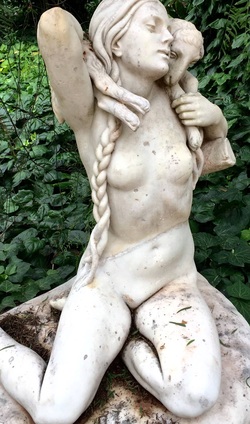 She was sculpted by Leone Tommasi in 1941, then put in storage where she was broken in two, and after having been repaired, has been outdoors in the botanical garden in Buenos Aires since the mid 1970s. I've worked with her before, but had the opportunity to make some new images a few days ago. She's about life size, and the model could still be alive, in her 90s now, as she must have been 15 or 16 years old then. I've arranged with a bookseller in Italy to send me the one book about this sculptor, perhaps I'll find out more about who she was and why it was so difficult to lift a newborn lamb - she has the tip of her tongue showing. This will be one of the fun pieces I'll do in the spring, maybe April or May. This is not the exact photograph I'll be using.

The image from five years ago was made in bright sunlight and this time I had the fortune of making photographs during a cloudy morning. "Hijinks, 1941" (2015) is the piece I made from that previous image, see below.

By the way, all the original prints you see on the gallery pages here are for sale. "Original print" means there is no photograph or painting that is the original and the print a reproduction; the print is the original work. I've been making original prints since 1970, hand pulled until my wrists were destroyed and digitally for about 12 or 14 years.

That said, do feel free to share the images, my hope is you will share them with someone who'd like to collect some of this work.