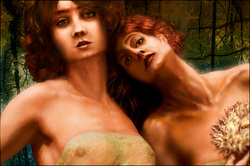 Re this work:

There really is a point where the luminosity, texture, gesture, expression, start to get just right and fool my eye into seeing faint motion. Harder to see on your phone than when they're in the room with you, I imagine. The changes made since yesterday are subtle.

And the work of the period (say, 1850 to 1930, mostly, with some outliers earlier and later) - disregarding Impressionism, Expressionism and all that - is something we were taught to ignore in art history. I'm well into finding fault with a lot of 20th C. art, its exploration of the narcissism of small differences, when there were also these practitioners who kept making pieces in some continuity going back at least to the baroque (thinking Bernini). The jaundiced 21st C. view might see some vaguely erotic thing here, what was intended was to show something like mutual support between women who were devastated by loss.

What's cool is that it's not cool.