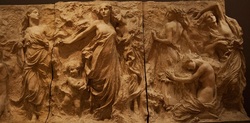 Here's a preview of what I've been working on since March 19 or so. Finished print will be 39" wide x 27" high, and could use being printed larger; where will I hang it then?
Six women sculpted in plaster in 1909 by Leonardo Bistolfi, the plaster (model for eventual marble sculpture, which is in Italy) bought for the Museum of Fine Arts in Buenos Aires, where I photographed it on January 3 and 4 of this year.
I used several different images for each figure, no one point of view was just right for each woman. The sculpture is larger than life size, they're about seven or eight feet tall each, and at this smaller aspect they needed to be closer together.
We know the woman on the far right was the scuptor's wife; the rest are models he used repeatedly. The redhead at center also appeared in Bistolfi's 1902 monument to Elena Bauer, which is in Genoa, and with which I worked in the winter - a depressing piece, but beautiful.
Not done, I'm sure, but worthy of a progress update.
"Five women after Bistolfi, 1909, and a Salmandress" 2017 39 x 27" $1000 Archival print on BFK Rives paper
A salamandress, by the way, is the female of the salamander, the being that inhabits flame even as a sylph would inhabit the air.